Teachers can create Customized Content from scratch within the Customized Content page or the Table of Contents. Teachers can also create Customized Content by editing their own copy of existing Studies Weekly Online content.
Note
If you schedule your Customized Content to be visible for the students at a future date, use the toggle feature to make it visible to your students before the start date. Otherwise it will automatically become visible on the date you chose.

There are multiple places Customized Content can be created. Open each section below to learn about the options.
As long as no students have started the Customized Content, the teacher can make edits to questions, answers, and the point value.
When the Customized Content does have responses submitted by any student:
Teachers can make changes to the

Title

,

Instructions

, and

Start/End Date

at any time.

If a teacher attempts to make edits to

Questions

,

Answers

, or

Point Value

after any student has begun the Customized Content, a pop-up will appear stating:

"A student has already started the

"Insert title of Customized Content"

so the Customized Content can no longer be modified. Click OK to create a copy, make any changes, and then click "Create" to save it!"

If a teacher does not want to proceed with changes they will click the Cancel button (

X

in top right corner of the pop-up).

If "Ok" button is clicked, the teacher is taken to a

copy

of the original Customized Content so the user can make any changes and then click "Create."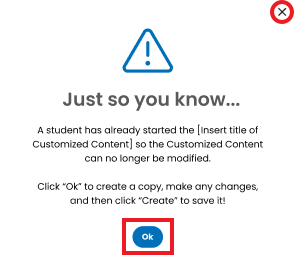 To edit already created Customized Content, click the
three dots

in the right corner of the box. Make the necessary edits and click
Create
.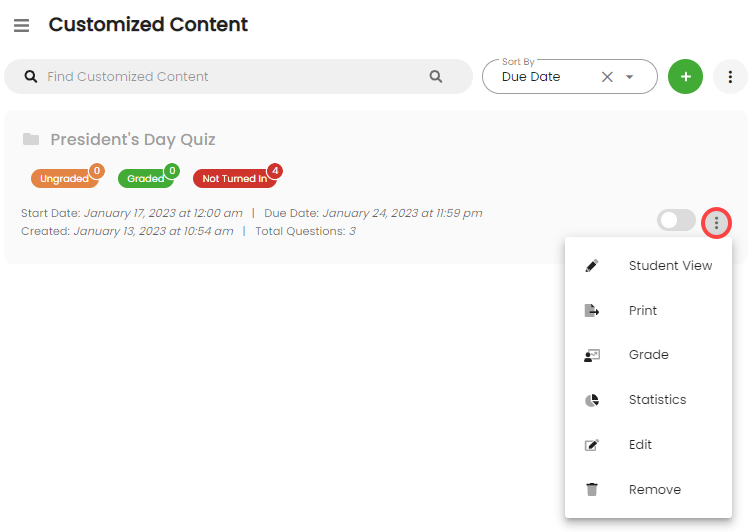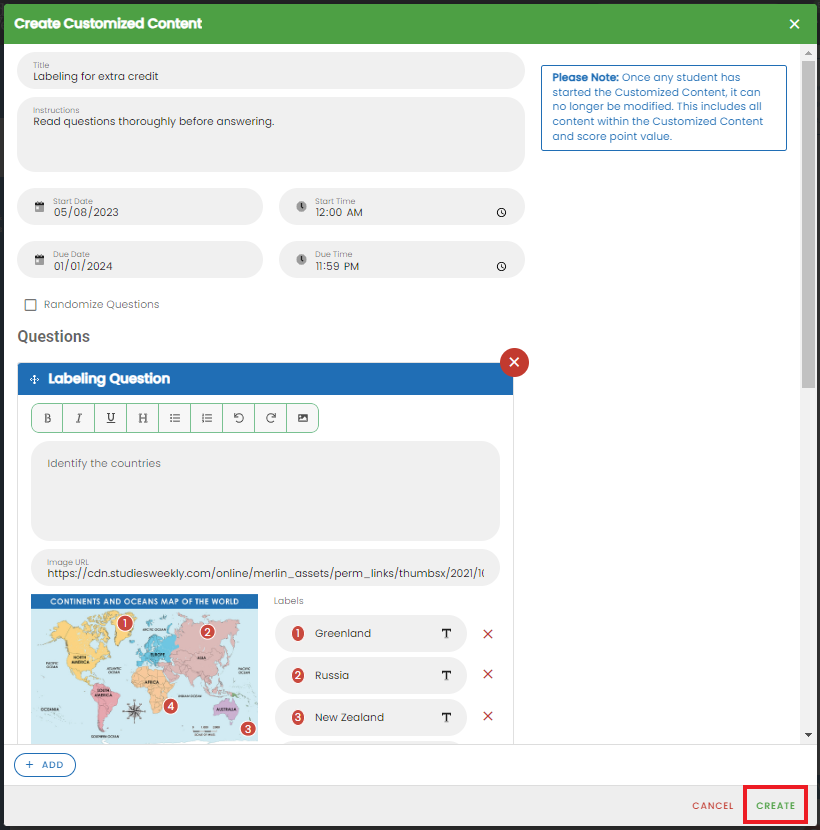 Important
Teachers are limited to two concurrent Customized Content creations within one minute. This is an intentional security feature. If there is an attempt to create more than two Customized Content assignments at a time, the user will get an error: