When a student logs into Studies Weekly Online, they will see their Student Dashboard. This article gives students an overview of how to navigate it.

To log in, students will:
Go to

online.studiesweekly.com

.
Enter their username and password.
Click Log In.
Classrooms
On the Classrooms page, students will see the classrooms their teacher has assigned them. Each classroom has icons with quick links to open the Publications page (book icon) or the To Do page (list icon). Icons are color coded for the grade level.

Coins, Notifications, and Profile menu
In the upper right corner, students will see their total number of coins, any notifications, and the Profile Menu. These features are accessible no matter where a student is within the the Student Dashboard.

The Profile Menu is where students can access Explore Student Dashboard.rs and Study Buddies (if enabled by the teacher), view account settings, and sign out.

Add Classroom
If a student's teacher provided a code to join a classroom, click the Add Classroom
button in the top right corner. Once a student types in the code and clicks ADD CLASSROOM, the classroom will appear on the Classrooms page.

Accessing Publications and To Do
If a student is already assigned to one or more classrooms, they can click a classroom to begin. Once a student enters a classroom, they will see the publications they have access to.

In the Publications tab, click a publication to view its Table of Contents. The Table of Contents shows all of the sections and lessons within the publication. Teachers choose which publications are visible for students as well as which articles, activities, assessments, vocabulary review, and customized content are visible within the publications.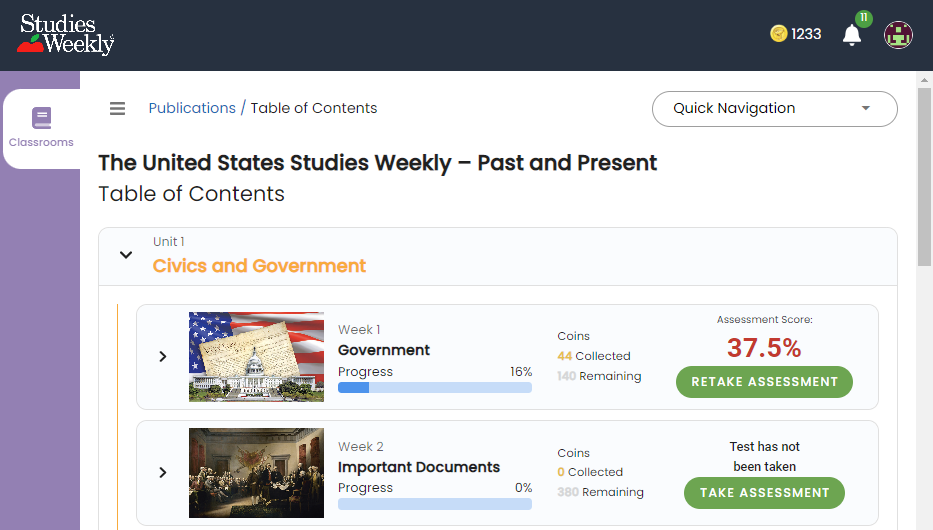 To navigate quickly in between weeks, use the dropdown box in the upper right corner of the page.

When students enter the Publications tab and do not see the side navigation bar, they can click the 3 lines in the top left corner to open/close the navigation pane: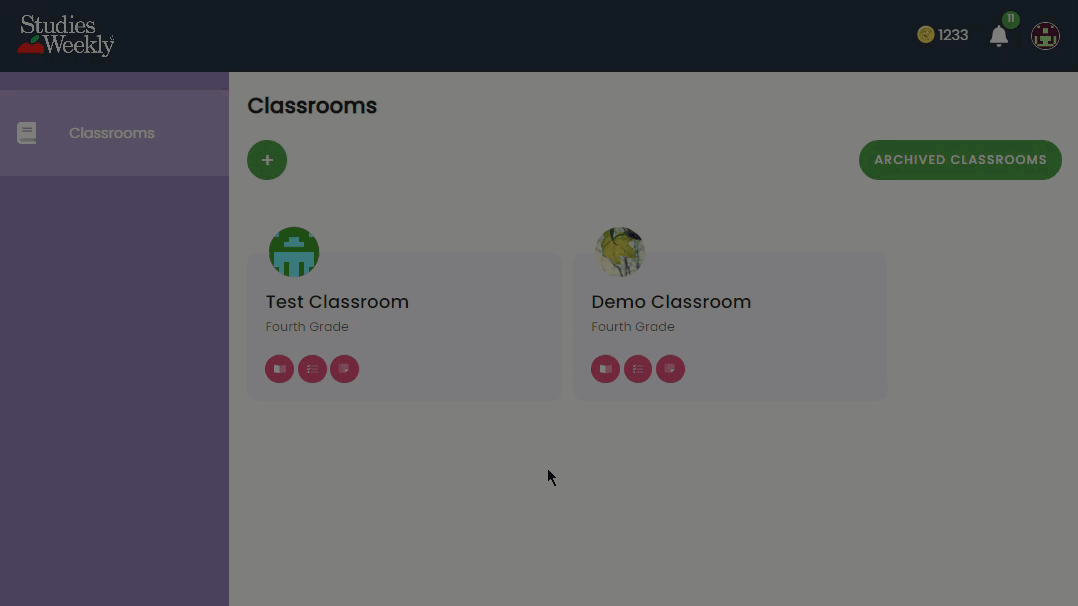 In the To Do tab, students will see the tasks a teacher has assigned to them. Available tasks are those that the student has not completed yet. Completed tasks have been completed, but not graded. Graded tasks have been completed and graded.
Students should check the To Do tab regularly for tasks assigned by their teacher.
Accessibility
If a teacher has enabled accessibility features for a student, the icon will be visible in the bottom left corner of their Student Dashboard.

To learn more about the accessibility features see the How to Use Accessibility Features in Studies Weekly Online article.