Each publication has a Table of Contents. The Table of Contents contains units, weeks for each unit, and articles for each week. Most, but not all weeks, will also have a Weekly Assessment, Crossword, and Misspilled. Some publications will also have Activities. This article covers how teachers can navigate the Table of Contents.
Watch this video to learn more.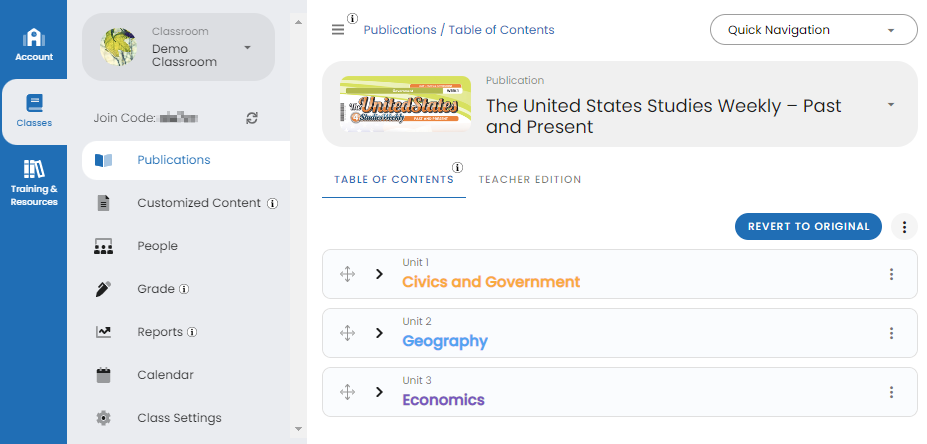 The following options apply to every level of the publication in the Table of Contents.
Quick Navigation: Allows users to jump into a week within the publication.
Revert to Original:

This button only shows up at the top of a Publication if the layout has been changed. Clicking it will revert units, weeks, and articles back to the original order. It will also reset all toggles to the "on" position.

Expand or Collapse:

Click on the caret icon next to a unit or week title to view weeks in a unit and articles in a week.

Reorder Units/Weeks/Articles:

Click and drag the cross arrow icon to reorder units, weeks, or articles.

Toggle:

Allows you to hide units, weeks, and assessments from student view.
Note
If you don't want students to view an article, weekly assessment, Crossword, or Misspilled, you can use the toggles to hide them for that week.
Level-Specific Options
Some options only apply to certain levels in the publication.
Add Customized Content:

At the top of a week and the bottom of a unit, you will see a button to add customized content (see article

How to Create Customized Content

).
Actions: The actions menu will give you different options at the publication, unit, week, and article and assessment levels.
Publication: At the top of a publication, the actions menu will allow you to refresh the Table of Contents, clear your progress, or adjust toggles ON or OFF in bulk for all the weeks in the publication.
Unit: At the top of a unit or week, the actions menu will allow you to clear your progress.
Week: For each week, the actions menu allows you to move the week to a new position, clear your progress, mark a week as optional, or share LINK to Google Classroom.
Articles, Activities, Assessments, Crossword, Misspilled, Customized Content, or Extended Reading Articles: These items can be marked as optional.
Note
Clearing your progress will clear any highlights and answers to questions you created in your teacher account for that unit or week.
When available, the icons for PDFs of the Student Edition, Teacher Edition, and Assessments will appear next to the toggle button for that week. Hovering over the icon will tell you what each item is.

To learn more, see the How to Navigate the Weeks in a Publication article.