Each publication has a table of contents. This will list units, weeks for each unit, and articles for each week. Most, but not all weeks, will also have a crossword activity, a Misspilled game, and a weekly assessment.

Expand or Collapse

- Click on the caret icon next to a unit or week title to view weeks in a unit and articles in a week.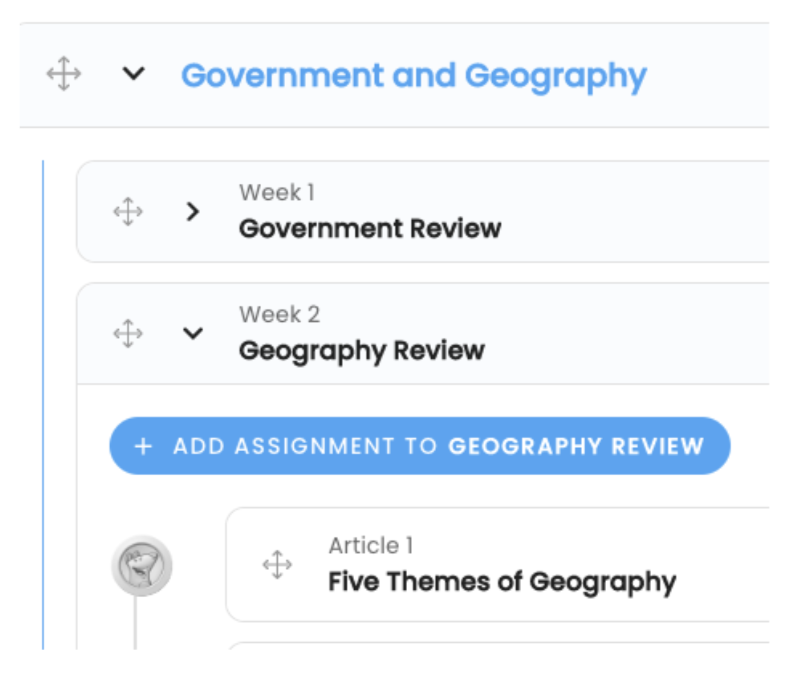 Reorder Units/Weeks/Articles - Click on and drag the cross arrow icon to reorder units weeks or articles.
Move week to another unit - Click on the actions menu to the right of a week to move that week to a different unit.



Revert to Original - Will reorder, units/weeks/articles, back to the original order and resets all toggles to on position. (Does not show up if layout has not been changed.)
Actions - Refresh Table of Contents, Bulk toggle actions

Bulk toggle actions will toggle on or off all the weeks, assessments, crosswords or Misspilled games for the publication.



Add custom assignment to unit or week - You can add a custom assignment for a unit or for a week (See article

How to Create Assignments

).

Add a link to the article "How to Create Assignments"