Answer Keys are found in the Teacher Edition PDF of publications, the Teacher Actions dropdown menu, or when viewing in the Customized Content section.
(If you are new to Studies Weekly Online, please visit the How to Navigate the Weeks within a Publication before continuing this article.)
Teacher Edition PDF
The PDF version of the Teacher Edition will provide answers to Assessments, Article and Activity questions, and printable worksheets. The blue PDF Teacher Edition button can be found at the week level after clicking on a unit in a publication.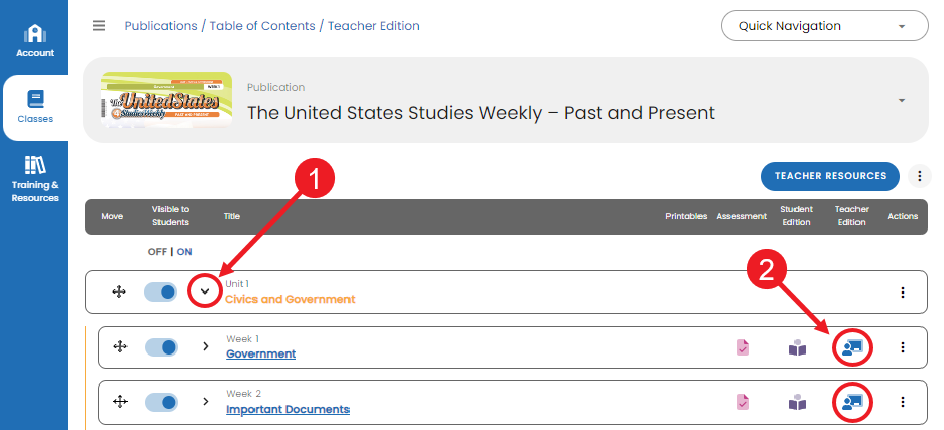 After the blue Teacher Edition PDF button is clicked, the PDF will open in a new browser tab. Teachers may download this to their device, print, or continue viewing online.

Answers usually appear in red, bold text, in line with the question. However, some printable worksheet answers may be at the end of the PDF in regular, black text because answers for these questions are not standard.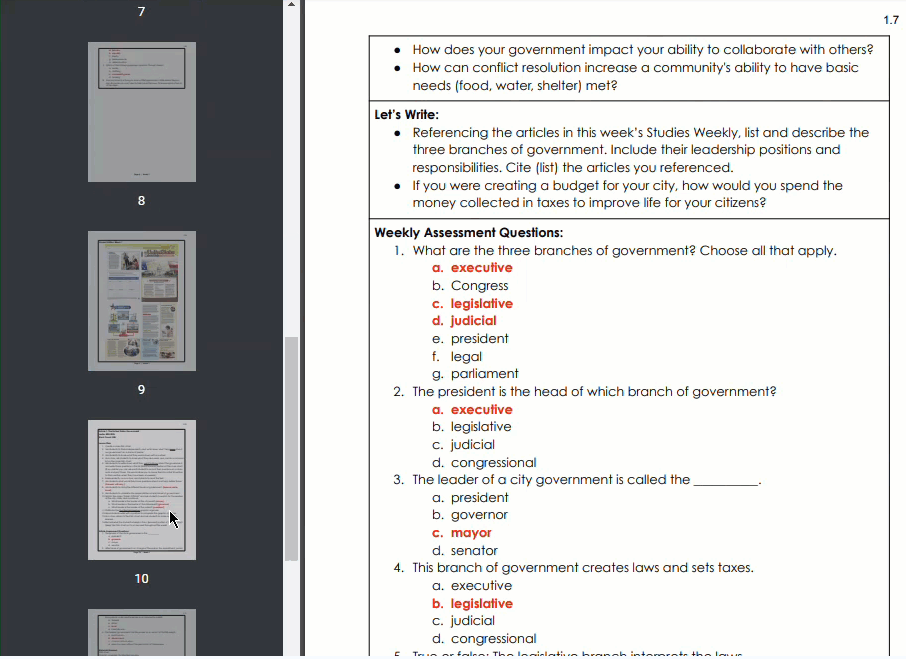 Teacher Actions Dropdown Menu
Answer keys are quickly found in the Teacher Actions dropdown menu within a publication. Article questions will print along with the answers.
Navigate to a week of your choice and open the Teacher Actions dropdown menu.
Select Answer Key from the list of options.

The Answer Key can be printed for reference or click Cancel to go back to the Table of Contents.
Customized Content View
Another way to see answers is to click the + Add Customized Content button within Articles, Assessments, Crossword, and some Activities. You can view answers without saving the customized content.
Navigate to a week of your choice and open the Teacher Actions dropdown menu.
Select +Add Customized Content.
Click OK on the pop-up to view answers.
Scroll through the content to view the answers.
When you are finished click Cancel and Discard Changes to return to the original content.
Quarterly Assessment Key (Legacy Publications Only)
Quarterly Answer Keys can be found within the first week of the quarter of the Teacher Edition of Legacy publications.
Open a publication to the Table of Contents and click Teacher Resources.
Click on the corresponding first week of the quarter and the Quarterly Answer Key will appear in the list of resources.

Click to open it and view the answers.
To learn more about the Teacher Edition and find additional resources, visit the Online Teaching Tools page in the Help Center.