Teachers can add new students to a classroom by creating a new student account one at a time, creating multiple students at once, or using a Join Code.
For other ways to add students to your classroom, see the How to Import Existing Students, How to Use Google Classroom with Studies Weekly Online, and How to Transfer Students article.
Note
If the classroom was created by rostering, you will not be able to add students manually. See our articles on rostering here.
From your Studies Weekly Online account and within the desired Classroom Card, click People.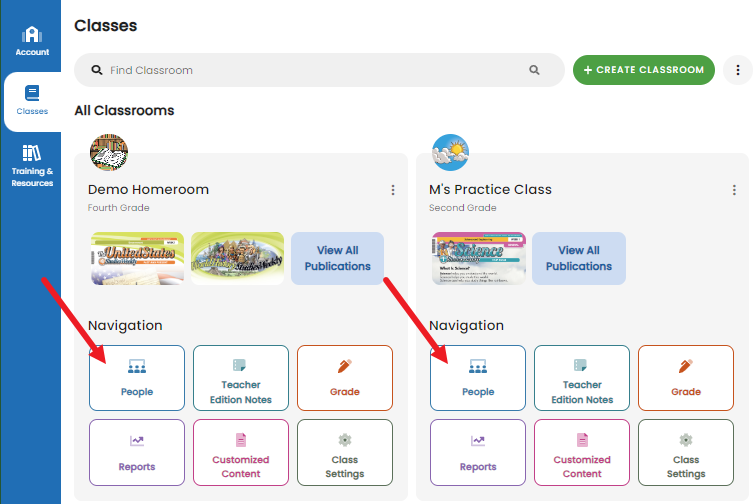 In the Students bar, click the Create Student button .
Fill out all fields and click Create.
Recommendation
Student Password criteria:
A lowercase letter
A capital (uppercase) letter
A number
Minimum of five characters
In the Students bar, click the three dots . then click Create Multiple Students.

Type in or copy and paste each student name on a new line.

Click

Create.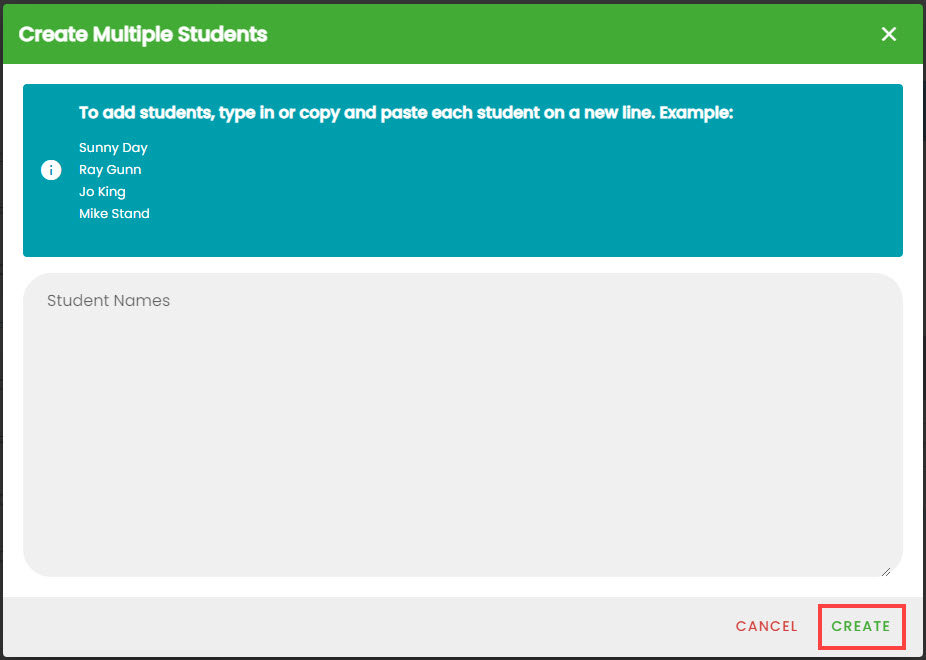 Note
Usernames and passwords will automatically be generated but can be changed later. For more information see the How to Edit Students article.
Join Codes are a simple way to invite students to a classroom. Teachers can either:
Copy and share the Join Code from the classroom sub navigation bar below the classroom name.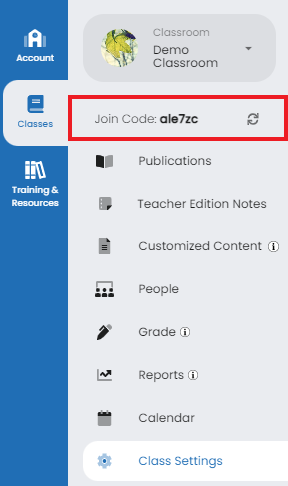 In the Students bar, click the

three dots , then click Generate Student Join Codes to print and distribute them to students.
The Register page for students has a space to enter the Join Code. Or if students already have an account, they can log in and enter the Join Code when they click the "+" Add Classroom button on the Classrooms page.
Importing students using a CSV file is the fastest way to (one time) bulk add students to your classroom. Download the provided CSV file or create your own (with the required fields below). .
In the Students bar, click the three dots , then click Import Students (CSV).

Download and fill in the columns in the CSV Template and save it to your laptop.
Drop the CSV file in the area provided or click to browse for the CSV file to upload it.
From the dropdown menu, select the fields you will use on the import.
Confirm the student information is correct by clicking the

boxes to the left

of the student names.
Click Import.
Recommendation
Student Password criteria:
A lowercase letter
A capital (uppercase) letter
A number
Minimum of five characters