Click the link to jump to the following:
Getting Started
To connect your Studies Weekly account to your Google Classroom, two thingsmust happen:
Log in to your Google Classroom account

Ensure that your students' Studies Weekly usernames match their Google Classroom email addresses
To use the integration, you will need to log in to your Studies Weekly Online account and manually change your students' usernames to their Google Classroom email addresses. To do this:
Go to the Classes tab and select a classroom

Navigate to the People section of the classroom

Edit each student's username to match their Google Classroom email address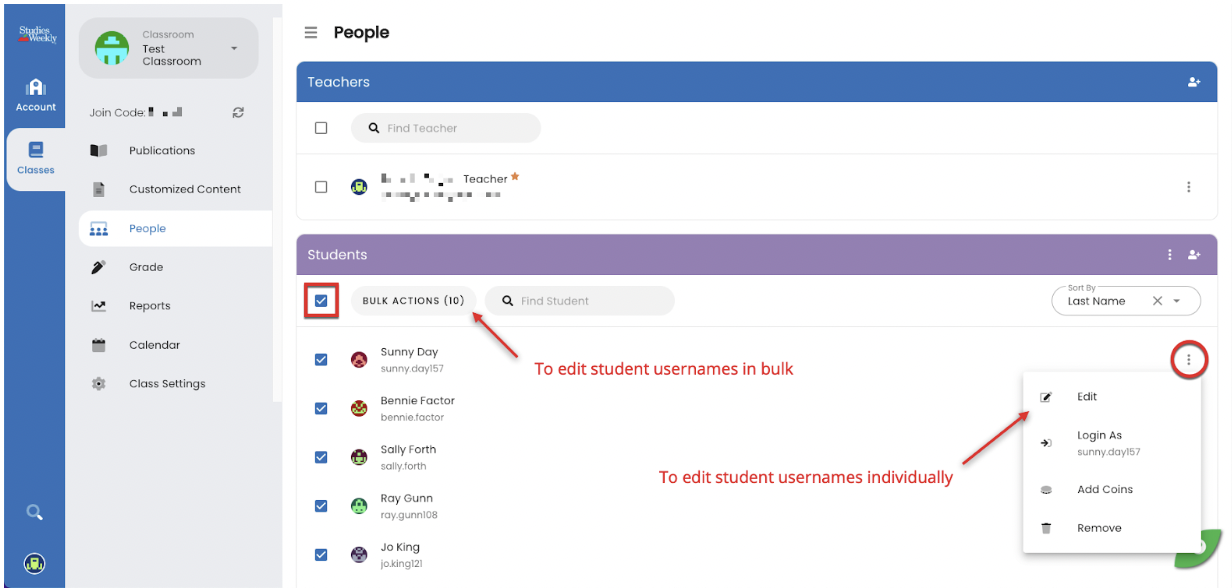 Recommendation
At the beginning of each school year, your auto-rostering program can link both platforms, but make sure to check this username requirement for all students.
Sync Assignments with Google Classroom
You can replace the assignments in your Studies Weekly Classroom with assignments from your Google Classroom.
On the Classrooms page, click the

three dots / action menu, then

Sync with Google Classroom.


Sign into your Google Classroom account.

Important

Be sure to give Studies Weekly permission to access your Google Classroom (i.e., check all the boxes!)

Click the

Select Course dropdown to select the course you would like to sync. It will show you how many assignments are in Google Classroom that will replace your Studies Weekly assignments.

Click Sync Course. A pop-up will tell you that "All existing Studies Weekly assignments in this course will be deleted, then recreated with updated links." If you're sure you want to move forward, click Sync Course again.

You will then see a pop-up showing that the assignment update was a success.
Assign Studies Weekly Content in Google Classroom
You can also assign Studies Weekly assessments, articles, or other media (e.g., images, audio, video) to students in Google Classroom.
Click the Google Classroom icon in the top right corner.



Select the Classroom you are sharing it to.

Add a Title, Description, Points (or "Ungraded"), and Due Date. Click

Share to Google Classroom.

The assignment will show up in your students' Classroom stream.