Ordering on the Online Store
If you are an individual teacher or educator ordering for only one or two classes, you can order directly online at our Online Store.
To place an order through our Online Store

2. Choose your state from the drop-down menu at the top right corner of the screen
3. Choose Social Studies, Science, or Well-Being at the top of the screen
4. Click on your grade level
5. Choose how many years you want the subscription to last under the Multi-Year Options
6. Format: Choose Print & Online (default) or choose Online Only
7. If the publication is also offered in Spanish then there will be a Language field in which you need to choose English or Spanish.
8. Enter the number of students and teachers (Example: If you choose 120 students and 5 teachers, we will ship 5 boxes of 20 student copies. One box for each teacher.)
9. Click Add to Cart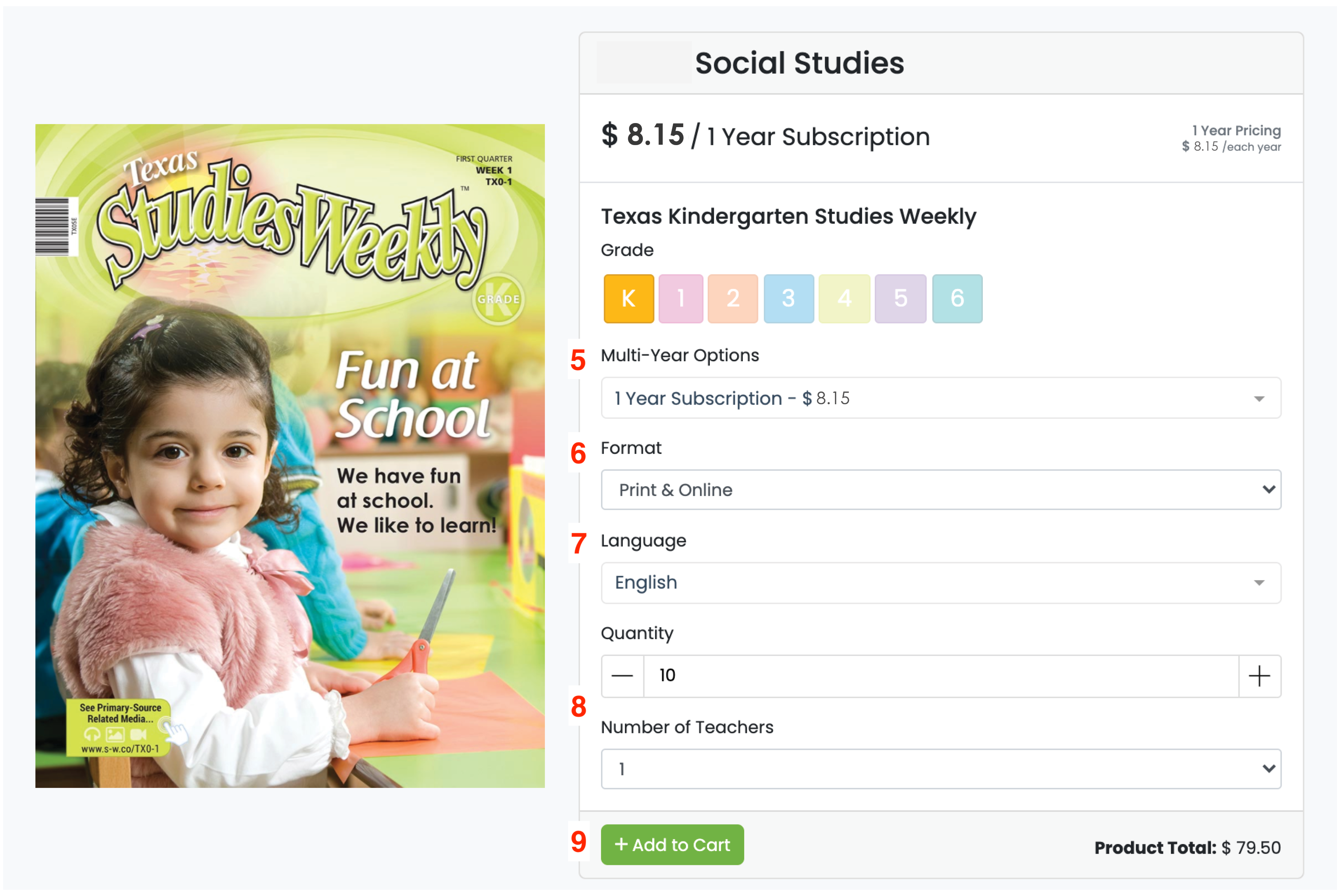 10. Repeat these steps for any additional grade levels or subjects
11. When you are ready to check out, click Checkout in the bottom right-hand corner of your cart
Checkout Steps
1. Enter your school zip code, then select your school from the drop-down menu, OR select Homeschool and enter your home address
2. Enter your first and last name
3. You may be asked to select the school year the order is for
4. Choose when to ship
Select Ship As Soon As Possible for orders for the current school year

Select a receiving window (after May 1st) for orders for the upcoming school year
5. Click Next
6. Select Credit Card or Purchase Order, and enter requested information
7. If Billing and Shipping address is NOT the same, remove the check mark and enter the correct billing information
8. Enter discount code, if any
9. Click Place Order