Teachers can share a class by adding co-teachers to their classroom.
Co-teachers will have the same level of access and permissions as primary teachers. This includes being able to change the week order, week visibility, and manage all aspects of the classroom. Co-teachers can also modify, grade, and change the availability for weekly assessments, Customized Content, and vocabulary reviews. Co-teachers cannot remove other teachers or archive the classroom.
Note
This feature was not designed for setting up other teacher accounts for a school. If you need help with setting up an entire school or district, please contact rostering@studiesweekly.com.
From your Studies Weekly Online account and within the desired Classroom Card:
Click People.
Click the Invite Teacher to Classroom button.



A pop-up will open asking for the teacher's email address.

Enter the information, then click the FERPA check box.

Click

Invite.

The teacher's email address will appear under the Teacher's section on the People page.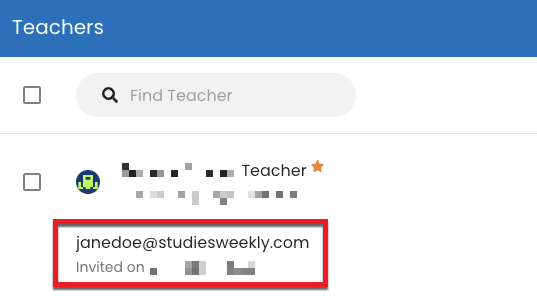 The teacher will receive an email invitation to your classroom. Once the teacher has clicked the email link to accept the invitation, they will be logged in. The system will ask them to choose a password if they do not already have one.
The teacher will be taken to the Classes page and asked to Decline or Accept the invitation. Once they accept, the shared class will be added to their online account.